Sacred Hearts Cathedral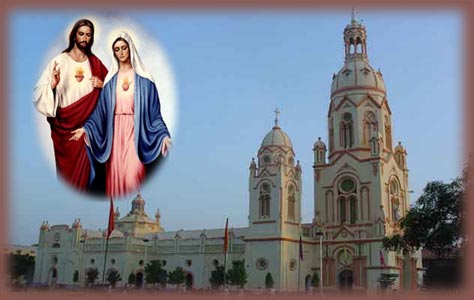 Welcome !
The Bishop, Clergy, Religious and Laity of the Diocese of Tuticorin welcome you. The Diocese of Tuticorin is situated in South East of Tamil Nadu State, in South India. The main language spoken by our people is Tamil.
The diocese of Tuticorin is comprised of the major part of the Tuticorin district, nearly half of the Nellai district and a small portion of the Kanyakumari district. The Catholics of this area trace their origin to the time of St. Francis Xavier who spent most of his missionary life in this area. Separated from the diocese of Tiruchirapalli, Tuticorin was created as a diocese and entrusted to the diocesan clergy in 1923 by the Apostolic Brief "Quae Catholico Nomini" of Pope Pius XI. It was entrusted to the indigenous clergy with Rt. Rev. Francis Tiburtius Roche s.j., as it's first Bishop. He was also the first Indian Bishop of the Latin Rite. The partons of our diocese are St. Francis Xavier and St. Teresa of Child Jesus. You may see more details in the history page. We wish you a great time browsing this site and have a nice day.